Answers
Mar 25, 2019 - 01:37 AM
Hello. We usually find it is best to size children's shorts by waist size: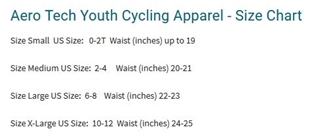 Please let us know if this doesn't help and we'd be happy to see what we can do to get more specific size info for you.

Just in case, we always include an return/exchange form with each order too in case you need to exchange sizes or if you buy two and return the one that doesn't fit for a refund.
Thanks again!