Answers
Jul 23, 2019 - 09:11 AM
Hello. The gel layer in this chamois is woven into a fibrous mesh layer where the strands stand vertically to provide density and support. In this way, it is a little bit more breathable than the traditional types of gel that are used in other styles of chamois pads.
Here is a cross-section of what this chamois looks like at the sit bone area: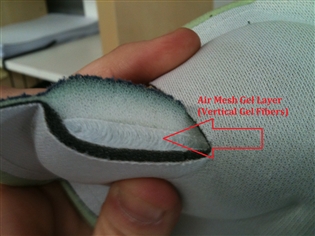 I hope that this helps, but please let us know if you have any questions at all.